Jones, Gallardo extend win streaks at Vado
July 21, 2021 | by Chris Stepan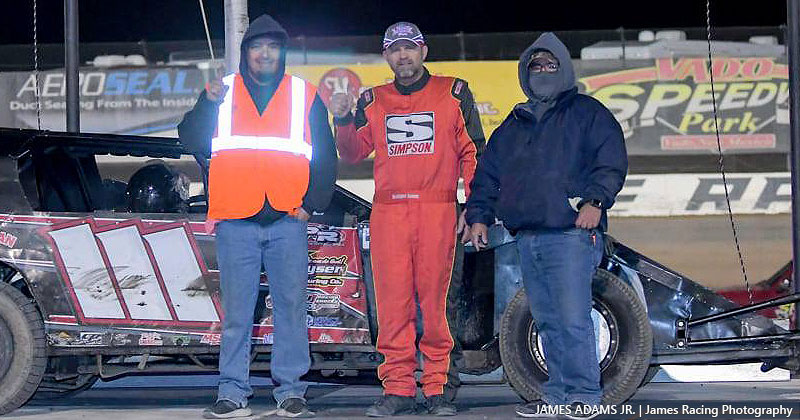 Bumper Jones won the USRA Modified main event.
Las Cruces Hot City Nights turned out to be a windy one at the Vado Speedway Park on Saturday, but the action on the track was hotly contested in both Summit USRA Weekly Racing Series divisions that were in action throughout the evening.
Starting 14th, Jake Gallardo didn't waste time storming to the front of the field in the USRA B-Mod main event and was able to wrestle the lead away from early leader Hector Barraza before the mid-point of the event.
Once Gallardo got out front, he ran off to his third straight victory while Greg Gorham raced from seventh to third ahead of Barraza, who crossed the line in third.
Mingo Jauregui, who started 12th, and 19th-starting John Carney Sr. worked their way through the field to finish fourth and fifth, respectively.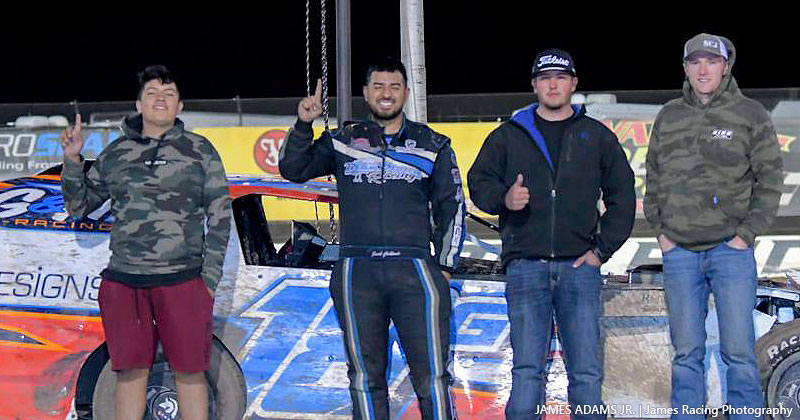 Jake Gallardo won the USRA B-Mod main event.
The final event of the night saw 23 USRA Modified competitors storm to the green flag with Tom Georges and Josh Cain pacing the field to the 25-lap main event's initial green flag.
Georges jumped out front at the drop of the green with Cain applying heavy pressure early on, followed by Xavier Ortega and Royal Jones with points leader Bumper Jones looking for his third win in a row and in hot pursuit.
Sixth-staring Carlos Ahumada Jr. quickly appeared in the battle for the lead and stole the top spot from Cain early in the going and tried to drive off from the field but multiple caution flags slowed the event and kept the field tightly bunched for the majority of the race.
On each restart, Ahumada and Bumper Jones, along with 12th-starting Fito Gallardo, waged a slide-job-throwing war around the 3/8-mile clay oval to the fans delight with Jones eventually overhauling Ahumada on a mid-race restart to take control, which he was able to hold to the end and extend his win streak to three straight.
Gallardo crossed the line in second with Ahumada third followed by Cain and Jimmy Ray, who rallied from the tail after starting 23rd.
-----> FULL RESULTS <-----
The Vado Speedway Park will be back in action Saturday, April 24, at 7:30 p.m. with another Hot City Nights promotion. If you have a valid ID from the city of El Paso, Texas, you will be admitted into the grandstands for just $5. Racing action will feature USRA Modifieds, Medieval USRA Stock Cars and USRA B-Mods, plus Southwest Super Trucks and Claimers.
For fans not able to attend in person, all events held during the 2021 season at the Vado Speedway Park will also be streamed live online at watchfye.tv.
For upcoming schedule information and tickets, visit vadospeedwaypark.com.